QUILTING AFFECTION™SKILL BUILDING
It seems there is never enough room in a pattern to include all of the details we would like to pass on those who purchase our patterns. With this in mind, we developed this section especially for those quilters who are new to the fabulous world of appliqué.
"Skill Building" is not intended to take the place of other methods of learning. Taking a class will still be the most helpful method of learning a new technique. Also, there are so many great books available to help you along in your appliqué journey. With our "Skill Building" section we hope to help you by giving you a bit more specific information on the techniques we use in our patterns.
Of course, for those of you who are experts, we hope that by setting this information off in a separate section of the pattern, we will be able to present an easy-to-use pattern that is not cluttered with information you already know so well!
Happy quilting!


The Staff of Quilting Affection™


Recommended:

If you don't already own a quilting basics book – please invest in one! You will find it handy whenever you begin a new technique or just need a refresher on anything from piecing basics to appliqué how-to, stitches, threads, binding your quilt, etc.


When appliquéing you will always want to use an open-toe sewing machine foot. This foot is completely open in the front allowing complete visibility of your stitching field.

Always position your pattern piece so that the blanket stitch swings to the left.
Needles and thread:

It pays to always use the best quality product you can afford. Look for good quality needles. Unless otherwise noted, we have found that the best gauge needle for these appliqués is a 75/11 Microtex. The heavier the fabric you will be working with or the more layers, the larger you will want your needle to be. If you find your needle breaking, switch to a size 80/12. However, since piercing a fused pattern piece leaves a permanent hole, you do not want a needle that is larger than it has to be. Be sure to change your needle often.


We use a high quality cotton thread for piecing and borders (Aurifil 50 wt in a neutral tan or gray or other high quality thread). For the actual appliqué stitching, match the thread color to the appliqué piece using a 30 wt to a 50 wt cotton/poly sheen thread. The larger the number, the heavier the thread. We love Superior, King Tut and Sulky threads but also use other high quality thread when we need to match a specific color. Use a 50 to 60 wt. thread in your bobbin in a color that is a close match to the appliqué thread color.


Templates:

You can make templates of your pattern pieces from any light weight cardboard (file folder or express mailing envelopes or cereal boxes work well). Make a copy of your pattern pieces. Carefully cut the pattern pieces out of your copied sheet and trace around them onto the cardboard. (Note: If you plan on using an appliqué method that requires the pattern piece to be turned under before stitching, add a 3/16- inch margin around each pattern piece.) Mark the placement numbers and any pattern instructions. Reverse and trace each pattern piece onto your fusible webbing sheets. See-through plastic template sheets are a wonderful alternative to cardboard as they are transparent and allow you to trace directly from your pattern instead of making a copy to cut up.
Light box alternative to templates:
If you are lucky enough to have a light box, you can omit the template making process and trace your pattern pieces directly onto your fusible webbing sheet. Just place the pattern piece sheet FACE DOWN on your light box. Place the fusible webbing sheet (web containing page on top) over the reversed pattern sheet and trace each pattern piece leaving about ½" between each piece. Be sure to mark placement numbers and any special instructions.
Double-sided light fusible webbing.
This product is a sheet of webbed glue sandwiched between two sheets of non-stick paper. You will find that the webbing generally adheres to one piece or the other and since you will be tracing your REVERSED pattern piece onto the sheet that has the webbing adhering to it, you will need to peel apart the sheets enough to determine which sheet has the webbing. Sometimes when you think you've done it just right, you will trace your pattern and cut it out, only to discover that the webbing has magically shifted and is now sticking to the sheet of paper that does NOT have the pattern drawn on it. Don't despair! When you begin peeling off the backing sheet, if you find the sticky webbing adhering to the wrong sheet, just press it back together and use the tip of a pin to hold the edge of the webbing onto the correct sheet. Peel the backing sheet off slowly and carefully and proceed.


Remember, when you trace your pattern template onto your sheet of fusible webbing paper, the pattern must be REVERSED in order to have your pattern pieces oriented correctly when you fuse them onto the fabric and then onto the background. Leave about ½" space between each pattern piece.


Once you have successfully drawn your pattern shapes onto the webbing paper and rough cut out the pattern pieces (leaving about ¼ inch around each piece), you will remove the non-web piece of paper and discard. Now place the pattern piece onto the WRONG side of the fabric you intend to use for that piece and press lightly to bond the pattern piece to the fabric. Carefully cut the pattern piece out following the traced lines of the pattern. Peel off the paper backing and discard. If you have trouble getting the paper off, try scoring it lightly with a pin and peeling from the tear.


Now the fun part! Follow your pattern instructions and placement diagram to place the pattern pieces onto the background. When all pieces are placed to your satisfaction, fuse permanently following manufacturer's instructions.


When a large pattern piece needs to look soft and flexible, or if you are working with many layers and want to reduce the stiffness of the overall motif, use a strip of fusible webbing around the perimeter of the pattern piece instead of covering the entire pattern piece. To do this, cut roughly ¼" inside the traced pattern line and discard the center.


Assembling the appliqué motif prior to placement on background:

It is quite easy to assemble your appliqué motif on a pressing sheet and then move it as a completed unit onto the background. To use this technique, after the fusible webbing has been applied to the fabric and the backing paper removed, instead of assembling the fabric pattern pieces onto the background, assemble them on a Teflon® Pressing Sheet or a piece of parchment paper. Begin by placing the pressing sheet over the placement diagram. You may need to use a light box if you cannot see the pattern diagram through the pressing sheet. Assemble the appliqué motif following the placement numbers and diagram drawing. The pieces are slightly sticky and will adhere until ready to fuse. When the motif is fully assembled, place another pressing sheet or piece of parchment paper over the motif and press lightly. Allow to cool completely. Peel off the appliqué motif and place it onto the fabric background. When all pieces are placed to your satisfaction, press according to the fusible webbing manufacturer's instructions for a permanent bond.


Choosing fabrics for your project:

There are countless books, magazine articles, videos, etc. on choosing the right fabric for your project. Explore magazines, social media and nature to find pleasing color combinations. The easiest way for a novice quilter to ensure a pleasing color combination is to leave the choice to the experts and choose your fabrics from a collection by a favorite designer or fabric company.


Stabilizers:

Some of our patterns require a muslin foundation fabric. This foundation ensures a stable base for appliqué stitching and becomes a permanent part of the finished project. If at any time you are working on a pattern and find that you are having trouble with the fabric puckering or pulling or uneven stitches, it may be that your background fabric will require stabilizing. You may use any of the numerous commercial stabilizers on the market or even freezer paper or parchment paper to stabilize your fabric for stitching. A stabilizer is always required when you use a satin stitch to secure your appliqué. Parchment paper tears away quite easily after appliquéing.
Appliqué stitching:
Blanket stitching and straight stitching are the two most commonly used stitches in the Quilting Affection patterns. Most modern sewing machines have a blanket stitch setting. If your machine does not have a blanket stitch, you can use a zig-zag stitch and still have a lovely result. In either case, the key to a successful result is Practice. Practice. Practice! Take your time and sew slowly until you feel comfortable. Fold a 20" x 10" rectangle in half or fuse two 10" squares of fabric together and draw circles, squares, squiggly lines, triangles and heart shapes. Practice your stitching on these shapes until you feel comfortable with inside and outside curves and corners. There are so many great books available for sale or at your library on appliqué stitching. The Internet also has a wealth of instructional videos available, many free of charge. Place your fabric in the machine so that the swing on the blanket stitch is to the left. On our patterns, pieces that are too tiny to blanket stitch easily, are straight stitched. This is your machine's straight stitch adjusted to an appropriate length to secure the pattern piece to the background. To help avoid fraying, place a bead of Fray Check® around each tiny piece and allow to dry thoroughly before stitching. Read our "Tension" section for information about adjusting your sewing machine tension for a great-looking blanket stitch.
Tension:

Having the correct top and bottom (bobbin) sewing machine tension will help ensure perfect stitches. Be sure to read your Owner's Manual and, if necessary, adjust your sewing machine settings for the type of project you will be working on.


Specifically, for appliqué blanket stitching, there are a few tips that will help the novice blanket-stitcher achieve a good result. To test how your standard tension setting stitches will appear, double a

light-colored

, 10 to 12" piece of cotton fabric. Using a

light-colored

thread on top and a

dark-colored

thread in your bobbin, sew a 3 to 4-inch line of blanket stitches using your machine's preset length and width settings. Remove the practice fabric from the machine and examine the stitches on the front and on the back of the fabric for even stitches and tension that is not too tight (puckers) or too loose. Now try several lines of blanket stitching using different width and length settings. Use an indelible pen to mark the settings used for each line and keep this sample fabric piece close to your machine while you work. This will help you immensely in choosing settings for different areas of your work.


A common problem with blanket stitches is that often a small "dot" of bobbin thread will show through. This will be quite visible on your sample light fabric/light top thread/dark bobbin thread combination. To eliminate this little "dot" loosen your top tension a little at a time until the "dot" disappears. It may not be possible to eliminate it altogether, but you can minimize it further by using the same (or similar) colored thread for both bobbin and top thread. Using the same or similar colors in the top thread and in the bobbin will often correct the appearance of the "dot" without having to adjust your tension at all. Patience and experimentation will help you obtain a satisfactory result.


Beginning and Ending stitching:

Begin stitching each pattern piece by bringing the bobbin thread to the top of the fabric. Hold the thread ends out of the way and take two or three stitches with your stitch length set to zero. Adjust your stitch length back to the pattern appliqué setting and continue along the pattern edge. When you reach the end, again take two or three stitches with your stitches set to zero. Clip the thread ends flush with the fabric. Turn fabric over and trim the bobbin thread flush with the fabric. Neglecting to keep these threads trimmed off can result in a tangled mess on the back of your project. We speak from experience!


When to double your fabric:


Any light fabric pattern pieces that cross over a darker piece of fabric may need to be doubled to avoid the darker color showing through. This is especially noticeable in things like light colored flesh pieces crossing over a dark colored piece of background or clothing. To avoid this, fuse together two pieces of the light colored fabric and then treat that fused fabric as you would any other piece of fabric.
Embellishments:


You may choose to use small embellishments in place of some of the small decorative fabric pieces. If you do, please be aware that things like buttons and beads can present a choking hazard to young children. Do not add any removable embellishments to a project meant for a young child.
Continuous Bias Binding:


This method, while requiring a bit more set up than just rotary cutting binding strips selvage to selvage, will reward your efforts with a completed bias binding strip of the required finished length. The first time may be a little tricky, but once you have mastered this technique you will be well rewarded with yards of finished, delightfully flexible bias binding. Use this method for creating narrow strips (1/4") for appliqué vines and stems or wider strips for binding a quilt with curves or scallops. The bias cut will allow easy, no-pucker application in creating curves or around curvy shapes.


1.
Cut a square of fabric appropriately sized to create the length and width of binding strips required. (You can find charts for this easily Online). Mark a diagonal cutting line. Cut along line. (
Diagram 1
).
(Diagram 1)

2. With right sides of fabric together, align the short triangle edges (marked in pink) and sew together with a ¼" seam. (
Diagram 2
).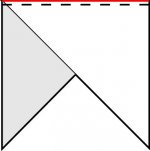 (Diagram 2)
3. Press seam open. This shape is now a parallelogram. (
Diagram 3
).
(Diagram 3)

4. Using a fabric marking device and ruler, mark bias strip lines to the width desired along the wrong side of the parallelogram following the bias grain edge. (
Diagram 4
).
(Diagram 4)

5. With right sides together, form a tube by bringing the straight grain edges (
marked in green
) together. Align edges and then shift one row over to offset the lines,
(Diagram 5
). Pin and sew edges using a ¼" seam. Press seam open.
(Diagram 5)

6. Beginning at the first offset line, use scissors to cut along the now continuous line to form one beautiful long bias binding strip! (
Diagram 6
).
(Diagram 6)

Copyright 2015 – All Rights Reserved – Diane and Tina Dillard for Quilting Affection™.